"Where there is Culture, there is Peace. There is also progress, there is also the right decision for the most difficult social problems. Culture is the accumulation of the highest Grace, the highest Beauty, the highest Knowledge"
N.K. Roerich
Just now, the moment has come when culture, like a protective barrier, must stop the fearsome dragon of war and save the world civilization. But for this, civilization itself must turn their attention to save the protective barrier – called Culture. And here, N.K. Roerich's philosophical ideas and his slogan "Peace Through Culture", which laid grounds for the first international treaty on the protection of cultural treasures of the world, known as the Roerich Pact, as well as the activities of the cultural and educational non-governmental organization established in Russia, founded by Svetoslav Roerich, are supposed to serve as forefront.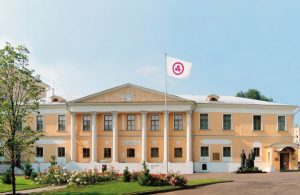 The International Center of the Roerichs and its integrated part, the Non-governmental N.K. Roerich Museum, play an important role in advancing the peace making ideas of the Roerich Pact and the scientific and philosophic ideas of Living Ethics.
For more than a quarter of a century, the International Center of the Roerichs, created through the efforts of the numerous Russian and foreign Roerich community in the Moscow Lopukhin Manor, preserves and promotes the rich heritage of the Roerich family, which had been transferred to its homeland by S.N. Roerich.
However, the existence of this wonderful Center is under threat because of persistent attempts by some officials to break the will of the donor of the heritage, to extinguish the preserved heritage, to confiscate the recovered with public forces building of Lopukhin Manor, and to destroy the image of the organization.
Our European Association offers to consolidate strength of public organizations and cultural personalities in order to actively support the renowned public cultural Center and its public Museum by name of Nicholas Roerich.