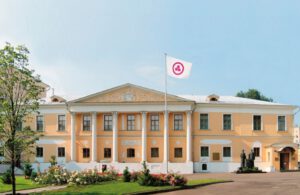 On the night of 28-29 April 2017, the State Museum of Oriental Art forcibly seized the territory and buildings of historic Lopukhin Estate, which since the 1990s has housed the public Nicholas Roerich Museum of the International Centre of the Roerichs, created at the initiative of Svyatoslav Roerich, the last representative of a family of prominent figures of Russian and world culture.
The Ministry of Culture, under cover of the investigative actions of the Main Investigation Department of the Ministry of Internal Affairs in Moscow regarding the Master Bank case, illegally seized all public museum funds belonging to the ICR. There was also a seizure of all of the organization's property and employees, which resulted in numerous thefts.
The public Nicholas Roerich Museum was the largest public museum in Russia with the world's largest art collection and archive of the Roerich family.
The situation of complete lawlessness unfolding around the International Centre of the Roerichs has long gone beyond the borders of Russia and is causing serious concern to the world community.
The persistent attempts of some Russian state structures to break the will of Svyatoslav Roerich, the donor of the Roerich family heritage, to take away the heritage preserved by the public organization, to destroy the image of the public organization widely known for its cultural activities, are alarming many cultural activists, public organizations and citizens in many countries.