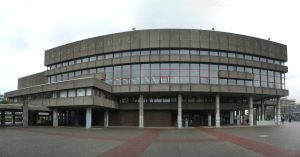 2018 ist das Europäische Kulturjahr. Und auch in diesem Jahr findet das Internationale Ausstellungsprojekt "Der Roerich-Pakt. Geschichte und Gegenwart" in Deutschland seine Fortsetzung.
Das Ausstellungsprojekt wurde von der nichtstaatlichen Organisation "International Centre of the Roerichs (ICR)" in Moskau initiiert und dokumentiert mit großformatigen Fotografien den Weg von der Entstehung der Idee zum Kulturschutz bis zu den traurigen Ergebnissen wegen der Missachtung des Kulturerbes aller Völker dieser Welt. Umrahmt wird die Dokumentation von mehr als 30 großformatigen Reproduktionen des russischen Malers und Wissenschaftlers Nikolaj Roerich (1874-1947), dem Grundsteinleger und Namensgeber dieses ersten internationalen Kulturschutzabkommens.
Seit seinem Start im Jahre 2012 wurden Ausstellungen des Projektes bereits in mehr als 150 Städten der Welt durchgeführt, so auch im UNO-Hauptquartier in New York, im Friedenspalast von Den Haag, dem UNO-Stabsquartier in Genf. Seine Premiere im deutschsprachigen Raum hatte die Ausstellung im Jahr 2013 in Berlin, anschließend folgten Bonn (2015) und Essen (2016).
In diesem Jahr ist die Universitätsbibliothek zu Bochum Gastgeber dieser Kulturveranstaltung. Besucher haben im Zeitraum vom 19. April bis 24. Mai 2018 Gelegenheit, eine Expedition durch den Kulturgüterschutz unternehmen. Die Eröffnung findet am 19. April um 18 Uhr auf der Etage 1 der Universitätsbibliothek statt. Begleitet wird die Ausstellung von einem Rahmenprogramm mit Vorträgen, Filmabenden und einem Gitarrenkonzert. Das Programm und weitere Informationen zu diesem Kulturereignis lassen sich auf der Website zur Ausstellung www.roerichpakt.com nachlesen.